Saravana Bhavan is one of the Indian Vegetarian International Restaurant Brand having 68 outlet across the globe. Serving in 18 Countries worldwide the real and authentic South Indian taste. Not only serving Indian taste on plate, you will also find a variety of Snacks, Fast Food & Milk Shakes.
Highlights
Indian Vegetarian International Restaurant Brand .
68 outlet across the globe & counting.
Serving in 18 Countries worldwide.
Authentic South Indian Food.
Here's what we had: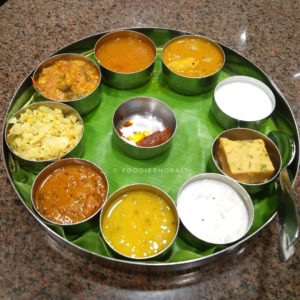 Tamil Nadu Thali, it is a fixed quantity thali. Everything is served on a banana leaf. Your full meal includes:-
* Dal
* Sambar
* Poriyal (Vegitable) – Sliced vegetables shallow fried with spices
* Koottu (Vegitable) – Vegitables added with lentils, less aqueous than sambar but more than dry chutney
* Pachadi – Traditional South Indian side dish similar to raita that is consumed in North India
* Rasam
* Special Kuzhambu – Made with variety of Dals Urad dal, Tood dal, Tamarind and Vegitables
* Curd
* Fried Chilli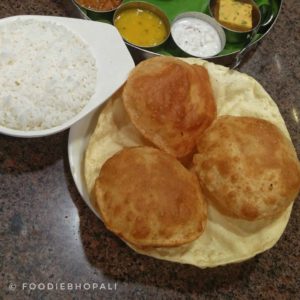 * Appalam – Papad
* Thuvaiyal (Dry Chutney)
* Poori
* Rice
With all these items, you can choose from a combo of 3 Poori & a small bowl of rice or Just one plate of rice. Every item is fascinating and is something that you will not get easily across your city, or even if you find it, it's difficult to get the taste.
PS: This thali is not available all day, Serving Time is 12:00 PM – 4:00 PM & 7:00 PM – 10:30 PM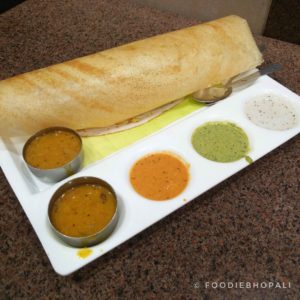 Masala Doas – Being a South Indian Food lover, one of my very bad habit is judging the taste of the sambar, chutney, crispiness of the dosa or anything. Ohh! buts thats what a food Blogger dose 🙄 isn't it.
Coming to the point, taste obviously. Perfect crispy Not too thick Dosa just made me mouthwatering, served with sambar and 3 types of Chutneys plated on the plate in tricolor 🇮🇳 Noop its not Republic Day or Independence Day special, its the normal serving that you get all round the year.
Taste of sambar served is little spicy exact as it is meant to be. Aloo Masala is perfectly boiled amd mashed so that it is easy to swallow it with sambar or chutney and you don't have to put any extra effort to eat.
My view:
If you love south Indian food, you can't afford to miss this place. I will surely try this again on my next visit to Delhi or may be at any of the other 32 outlets in India. This place is mostly fully occupied and you have to wait in a que, so reservations are recommend.